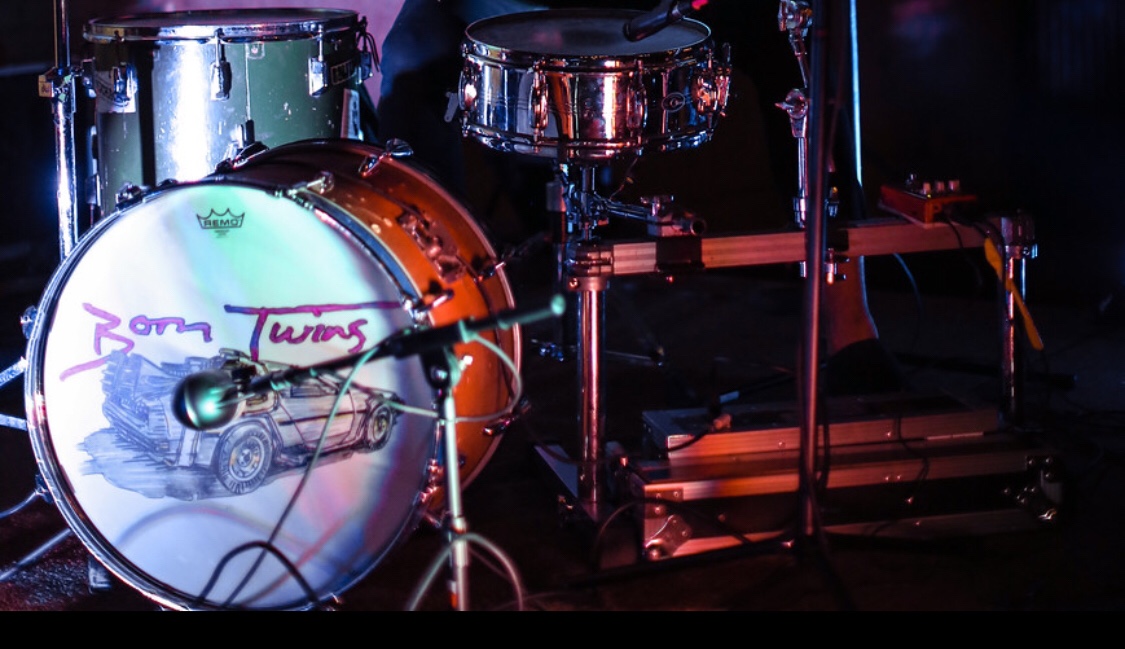 "The latest project from duo Singer Mayberry and David Lujan, Born Twins turns the indie rock formula on its ear with earnest vocals and a warm, minimalist feel. Fans of their previous bands, Red Leaves and BitterBirds, will know exactly what to expect from this dynamic twosome.
Tunes like a spot-on cover of The Cure's "A Few Hours After This" and the insistent drum stomp of "Fall Apart" hearken back to the lo-fi days of analogue '80s synth, with droning bass and floaty vocals. Emotional without being saccharine and disarmingly honest, Born Twins continues Mayberry and Lujan's track record for finely crafted indie pop." - MAY 16, 2019 BY BILL TUCKER, theAustinot
by Laurie Gallardo, October 15 2018
Playing 12am this Saturday in San Antonio with a bunch of bands and writers! Doors are at 7pm for this all ages sho…

https://t.co/Iml7YrsK57

Had fun making this playlist inspired by our latest single, The River. A real mix of genres and artists on here, ol…

https://t.co/iBhcvfJ57N

Listen today! New single "The River" is out on Spotify or most digital platforms ✨ Give us a follow 😘

https://t.co/uDB9fMvWH0
Born Twins, the latest project from Austin natives Singer Mayberry and David Lujan, brings the scope of their long musical career into focus with well-crafted songs and finely honed musical skill. The analog indie pop duo has been performing in groups together since the early 2000's. Both of their previous projects, Red Leaves and Bitter Birds toured the southwest United States extensively. Lujan, typically lead guitarist, plays both bass synthesizer and drums in Born Twins while Mayberry leads with guitar and vocals.
Born Twins, a namesake derived from the novel "A Scanner Darkly" by Phillip K. Dick, is an attempt for the two to move both forward and backward with their music. The novel's main character Arctor, is made aware of the fact that his mind has split in to two separate halves, both halves receiving information and processing it at the same time separately. "I just felt like that character sometimes, you know," said Lujan. "I have to play the drums and the bass and the vocal all at the same time, but at the same time make it seem like I'm not thinking about it. Like it is second nature." Born Twins songs, penned by Lujan, often lean toward darker narratives. This imagery can be seen throughout his musical career. 'Frankie Machine' the anchor track to Red Leaves' full length LP 'By Road or Rail' depicts characters from a Nelson Algren novel, while 'St. Charles' from the same album was written about Charles Bukowski, both authors with notably dark overtones.
Born Twins however, takes the word play and lyrical description Lujan is known for as a given. The songs seem effortless and masterfully composed with Mayberry's guitar floating over the top of the Silver Apples inspired drum lines and droning bass organ. Mayberry, a classically trained guitarist and daughter of Kurt Mayberry of the X-Streams, an Arizona based ska band from the 80's, bestows the perfect counterpoint to Lujan's Lo-Fi sensibilities. Their latest EP 'Slow Dance' features Mayberry singing lead on 'A Few Hours After This," a lesser-known Cure song from the mid 80's. Indeed it seems the band is pulling much of their influence from the deepest corners of that decade sounding more like the DEVO basement tapes than Motley Cru and big hair. "Punk music from the late 70's and 80's has always been a huge influence," says Mayberry. "My parents had a club in Tempe Arizona where bands would play. I would fall asleep in the 'office' of the club while No Doubt and Nirvana were playing on the other side of the wall." This obviously influenced her love of music and gave her the ease and comfort on stage that she exhibits while performing.
Vocals, Guitar / Singer Mayberry
Vocals, Drums, Bass Synth / David Luján
10/05/2019 Hard Luck Lounge, AUSTIN TX
9/07/2019 Mohawk, AUSTIN TX
8/02/2019 Rosella, SAN ANTONIO TX
7/30/2019 Cheer Up Charlies, AUSTIN TX
7/26 Low Country, SAN ANTONIO TX
7/20/2019 Whip In, AUSTIN TX
7/2/2019 Black Sparrow Music Parlor, TAYLOR TX
6/29/2019 Swan Dive, AUSTIN
6/22/2019 Presa House Gallery, SAN ANTONIO
5/31/2019 The Whip In, AUSTIN
5/29/2019 Bank's Street Bar, NEW ORLEANS
5/28/2019 Euclid Records, NEW ORLEANS
5/26/2019 Mongoose vs. Cobra, HOUSTON
5/17/2019 Hard Luck Lounge, AUSTIN - Vinyl Release
3/14/2019 The Parlor, SXSW AUSTIN
3/12/2019 Scholz Garten, SXSW AUSTIN
2/10/2019 Cheer Up Charlies, AUSTIN
1/17/2019 Swan Dive, AUSTIN
10/15/2018 Cheer Up Charlies, AUSTIN
8/30/2018 Hotel Vegas, AUSTIN
7/25/2018 Cheer Up Charlies, AUSTIN
7/21/2018 Winter's Tavern, SONORA CALIFORNIA
7/21/2018 Hotel Utah, SAN FRANCISCO CALIFORNIA
7/19/2018 Winter's Tavern, PACIFICA CALIFORNIA
7/18/2018 4th Street Vine, LONG BEACH CALIFORNIA
7/17/2018 Silverlake Lounge, LOS ANGELES CALIFORNIA
7/15/2018 Smiley's Schooner Saloon, BOLINAS CALIFORNIA
7/14/2018 Store Club, OAKLAND CALIFORNIA
7/13/2018 The Blue Lagoon, SANTA CRUZ CALIFORNIA
5/27/208 Cheer Up Charlies, AUSTIN
3/16/2018 East 11th Stair Set, SXSW AUSTIN
3/14/2018 The Ginger Man, SXSW AUSTIN
3/13/2018 GROUSE Fest, SXSW AUSTIN